VIDEO: Did this woman try to take a World Cup gold medal? Netizens thinks so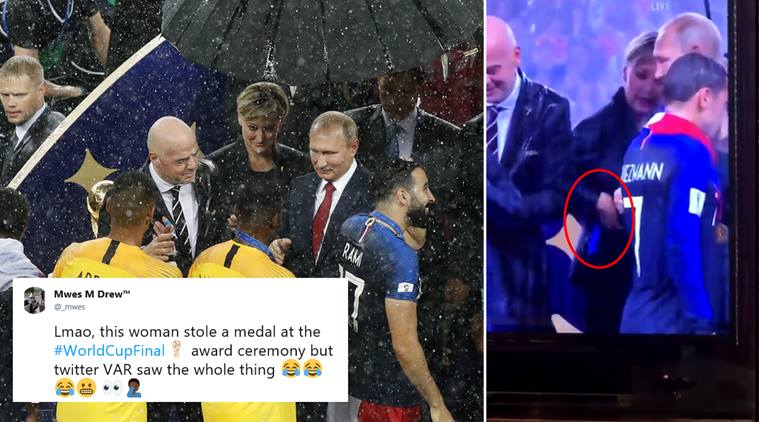 The woman standing between FIFA President Gianni Infantino and Russian President Vladimir Putin during the presentation ceremony while French players and staffs received their gold medal has left people intrigued. (AP Photo/Rebecca Blackwell)
France lifted the FIFA Football World Cup trophy defeating Croatia in a thrilling 4-2 game in Moscow on Sunday. And much like the match, the presentation ceremony was full of events, with no dearth of drama. One unidentified woman official present on the podium was seen sneaking in a world cup medal into her pocket! Yes, standing right behind Russian President Vladimir Putin, she was busted where her 'act' was caught on camera — being broadcast worldwide.
French players and staff were collecting their world cup gold medal when this woman decided to smoothly steal a medal with a nice grin on her face. People watching the ceremony on TV were quick to see the royal blue ribbon of the medal being tucked into her blazer's pocket. And the footage of the woman's brazen heist quickly spread on the Internet like wildfire.
Am I the only one who saw this woman steal a medal?! ????‍♂️
On Twitter people were surprised how she dared to steal a world cup memento for herself, right under Putin's nose. While some sarcastically said she didn't want the medals to get soaked in the sudden showers, many wondered if there were extra medals so she just put it away. One user also joked that it was for "Harry Kane", while another added that it was "for Messi". Not just on Twitter, the footage dominated even on Reddit and one user dubbed it as "Russian medalling".
This woman stole a World Cup Medal during the ceremony ???
#FIFA@FIFAcom Why did the woman behind Putin's right shoulder put a championship medal in her right pocket?
Tie breaker question in your local soccer quiz, "can you name the woman who stole a World Cup medal".!!!!?? https://t.co/0FkY2Cmodr
Vladimir Putin helped this woman steal a #WorldCupFinal medal! Quality! Love the guy. No other leader would do anything like this, especially at his own ceremony ? https://t.co/RZZrlJBcof
Ladies! Ladies!! Ladies!!!

How and Why will you Steal a Medal in this Type of Tournament?
Do you think the woman was stealing? Tell us in comments below.
© IE Online Media Services Pvt Ltd
Source
https://indianexpress.com/article/trending/viral-videos-trending/fifa-world-cup-2018-woman-staff-puts-medal-in-pocket-steal-viral-video-5261946/